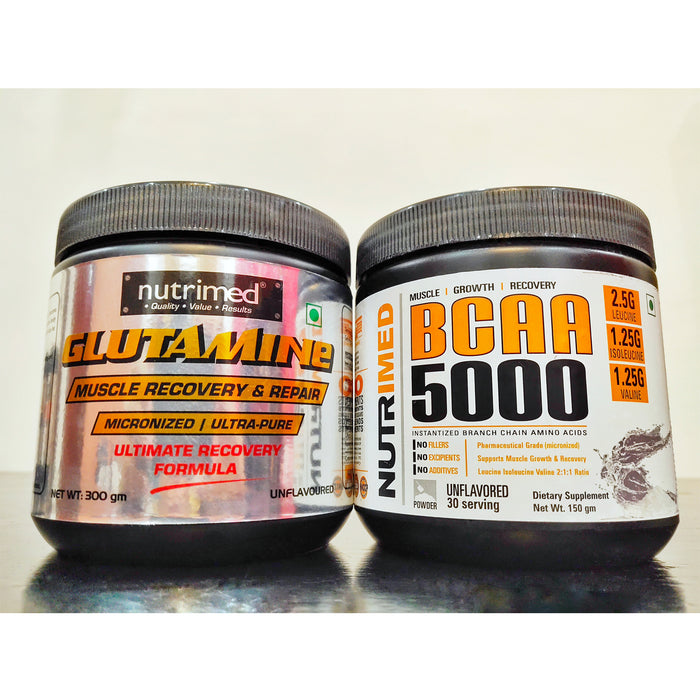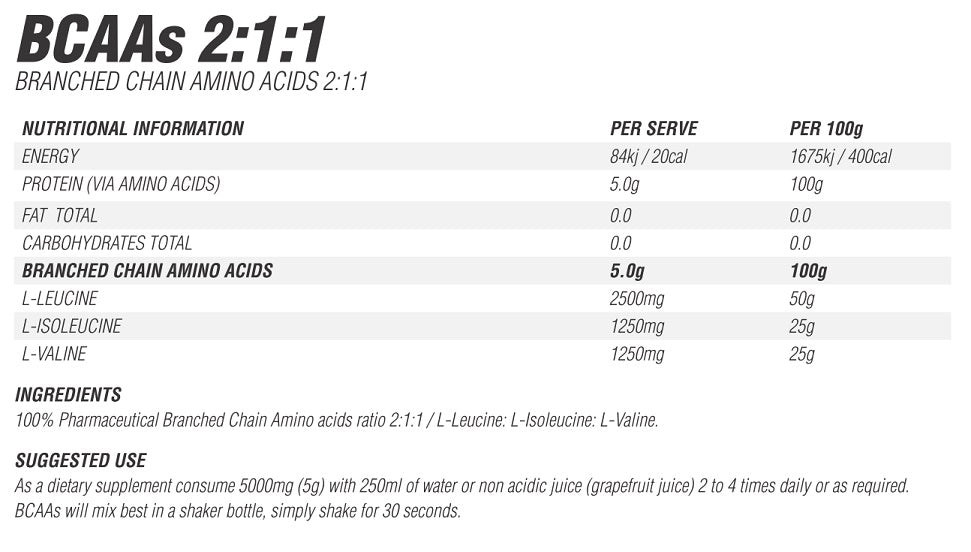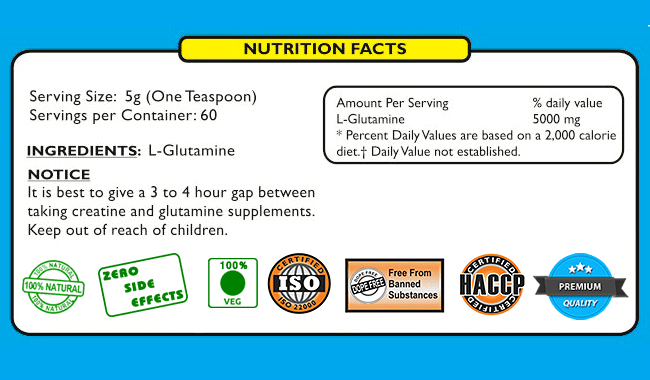 view nutritional info
ULTIMATE RECOVERY Stack = BCAA + Glutamine
COMBO PACK OF:- BCAA 150 gms (Unflavoured) & Glutamine 300 gms (Unflavoured)
Instantized 100% BCAA Amino 2:1:1 provides a 5000 mg blend of the three Branched Chain Amino Acids (L-Valine, L-Leucine and L-Isoleucine) in every serving. The Branched Chain Amino Acids (BCAA's), so named because of their unique branched chemical structure, are essential in that the body cannot make them from other compounds. In recent times, these amino acids have been investigated for their potential anticatabolic (preventing muscle breakdown) and anabolic (muscle building) effects.
The Branched Chain Amino Acids (BCAAs) are essential amino acids that can't be produced by your body. They can only be taken in through diet. Because the BCAAs are very much in demand with all kinds of athletes, we've made them available to active adults everywhere in a formula that's instantized for easy mixing. 
KEY FEATURES OF BCAA
Instantized Formula

Mixes Easily with a Spoon

Leucine, Isoleucine, & Valine in 2:1:1 Ratio

Unflavored Versatility

Highly Concentrated

Supports Muscle Building & Recovery Efforts
Directions for consuming Instantized BCAA Amino 2:1:1
Consume 1 Heaping Teaspoonful of Instantized BCAA Powder between meals, 30-45 minutes before workouts, and/or immediately after workouts. 
TIP: Try adding some to your favorite protein supplement or weight-gainer. Combine with a good diet and regular exercise.
PACKING SIZE:

150 gms

FLAVOR:

UNFLAVOURED

SERVINGS:

30

SCOOP SIZE:

5 gms (1 teaspoon) *
*Packing doesn't include a scoop
How does it taste? 
This product is unflavoured and is generally considered to be slightly bitter.
TIPS TO CONSUME: Since unflavoured BCAA is bit bitter in taste, you may mix it with orange gatorade, grape juice, cranberry juice or any other favourite beverage of your preference and also with your protein shake and consume it easily. 
100% PURE GLUTAMINE POWDER
ONE SERVING: 1 TEASPOON (5 gms)
Glutamine is the most abundant amino acid in the human blood. Glutamine may become conditionally essential in certain situations, including intensive physical training, when the body cannot meet its needs by synthesizing glutamine.
This conditionally essential amino acid can be provided by dietary protein intake, including by food supplements.

KEY FEATURES OF GLUTAMINE:
-Nutrimed Glutamine Powder is made with pure L-Glutamine.
-It is unflavoured, which makes it easier to mix it with food and beverages.
-Add to meal replacements or protein shakes for enhanced results.
-Instantized to mix easily in to milk, water, juice or oatmeal.
-It supports the muscles in development as well as recovery.
-Produces an Anti-Catabolic (muscle sparing) Effect.
-Helps Increase Growth Hormone Release and Helps Enhance Muscle Metabolism.

Serving Per Container: 60
Serving Size: 1 Teaspoon (5 gms)
*Packaging doesn't include scoop
You recently viewed
Clear recently viewed