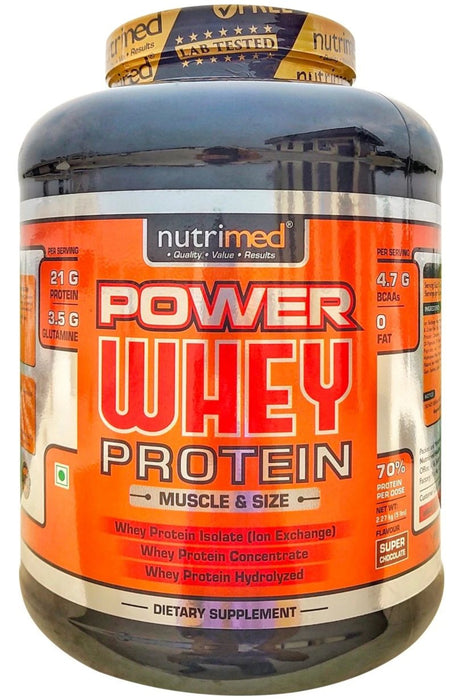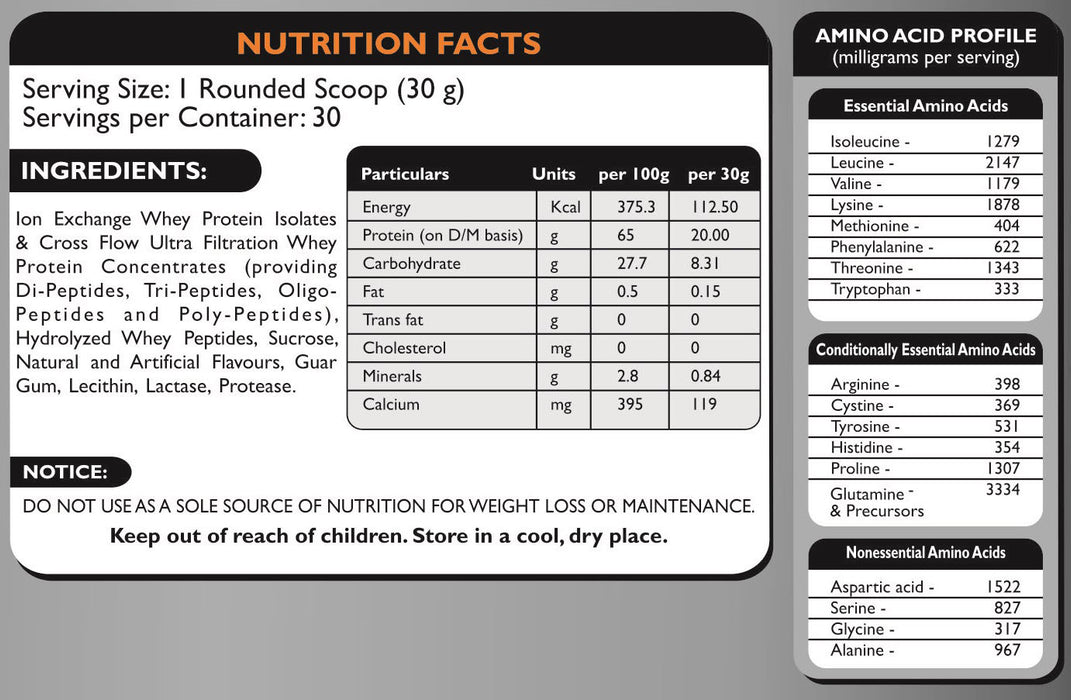 view nutritional info
Power Whey Protein - 5 lbs
POWER WHEY PROTEIN
ONE SERVING: 1 SCOOP (30 gms)
5 lbs = 75 servings
LEAN MUSCLE-GAIN PROTEIN FORMULA
Nutrimed™ Power Whey Protein is designed to meet the daily protein requirements of active individuals and fitness enthusiasts. Nutrimed™ Power Whey Protein contains 21 grams of protein, coming from highly efficient blend of whey protein isolate, ultra-filtered whey protein concentrate and hydrolyzed whey protein.
• Highly efficient whey protein blend of whey isolate, whey concentrate and hydrolyzed whey
• 21g of 100% whey protein per serving
• Rapid post-workout amino acid delivery
• Builds lean muscle mass and strengthens immunity
• Enhances recovery and reduces muscle loss
• Instantized formula for easy mixing and fast digestion
• Ingredients sourced from quality international manufacturers
Loaded with BCAAs and EAAs for faster muscle recovery
Nutrimed™ Power Whey Protein features a complete amino acid profile that includes 4.7g of BCAAs like L-leucine, L-Isoleucine, L-Valine and 9.5g of EAAs per serving that supports protein synthesis for faster muscle recovery and enhances muscular strength. The balanced BCAA profile of Nutrimed™ Power Whey Protein boosts protein synthesis and recovery; this makes Nutrimed™ Power Whey Protein an ideal pre and post-workout supplement.
INTERNATIONALLY-SOURCED INGREDIENTS
Nutrimed™ Power Whey Protein is created using ingredients sourced directly from quality international manufacturers from USA & Europe. This ensures that the supplement is best in class, and the supplement adheres to the most stringent of safety standards.
You recently viewed
Clear recently viewed