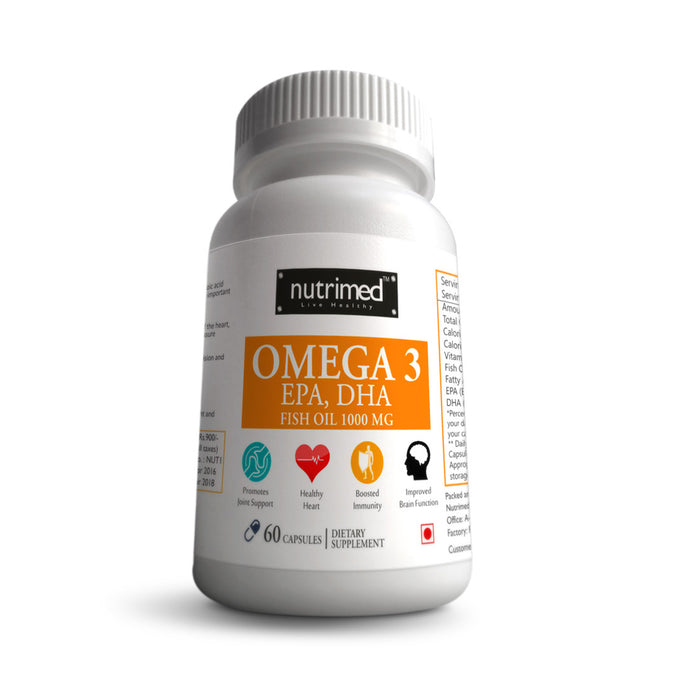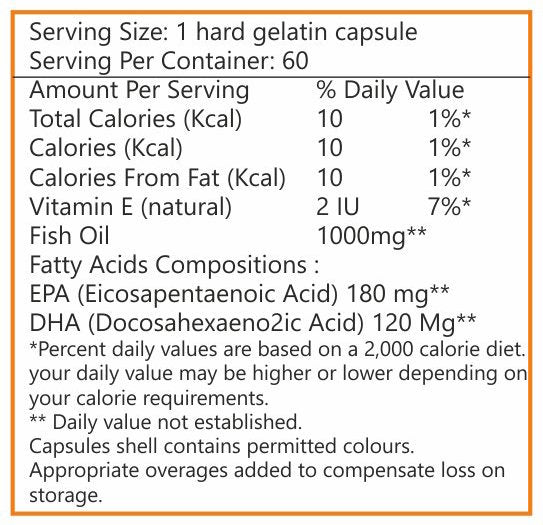 view nutritional info
What is OMEGA 3?
Nutrimed Omega 3, when compared to 90% of other brand's Omega 3 capsules in market; is of much superior quality as it has advantages in product quality as explained in points below:
Nutrimed Omega 3 is not in liquid form in cheap transparent golden capsules, which usually have fishy smell.

 

Nutrimed Omega 3 is in soft gelatin non-transparent capsules with micro-encapsulated powder form Omega 3, which doesn't have any fishy odour.

Micro-encapsulated powder form Omega 3 has superior absorption & easy digestion, thus has better proven results.
Decades of research has been devoted to discovering the many health benefits of Omega 3 supplementation. Omega 3 is an essential fatty acid sourced from fish oil, which is rich in EPA (eicosapentaenoic acid) and DHA (docosahexaenoic acid). As humans are incapable of synthesising Omega 3, it is essential that we consume them via dietary sources. Whilst Omega 3 can be derived from fish, such as mackerel and salmon, it can be difficult to consume optimal amounts through food alone, particularly with a hectic modern lifestyle.
What is OMEGA 3 used for in the human body?
Omega 3 has a variety of functions within the human body. This includes the most basic physiological processes, such as the production of cell walls.
What are the Key Benefits?
EPA and DHA have a radically important role in cardiac health. When these two long chain fatty acids are combined, they contribute to the normal function of the heart. Additionally, we have included a source of Vitamin E to help keep you on top of your micronutrient requirements.
To obtain these benefits, a daily 250mg intake of EPA and DHA is recommended, which can be met with two capsules dose of Omega 3 (containing a total of 360mg of EPA and 240mg of DHA).
Omega 3 is extremely cost-effective and suitable for on-the-go consumption anywhere, anytime.
Is this product for me?
Nutrimed Omega 3 capsules are suitable for anyone who is looking to supplement their diet with a high-quality source of Omega 3 fats as a way of optimising health. This product is also perfect for individuals who lack fish in their diet.
You recently viewed
Clear recently viewed