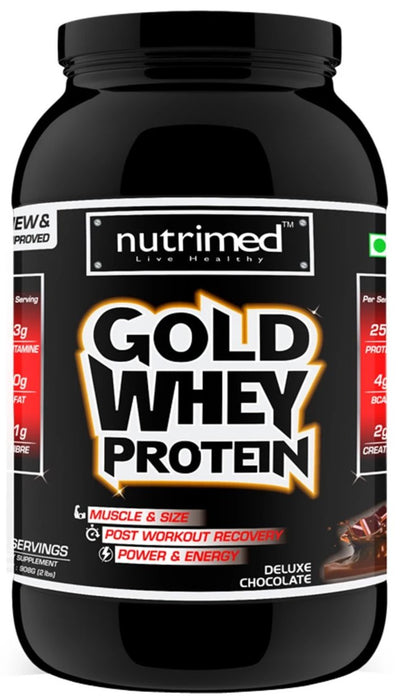 view nutritional info
Gold Whey Protein - 2 lbs
---
ONE SERVING: 1 SCOOP (50 gms)
---
GAIN ONLY MUSCLE, NOT FAT
Nutrimed™ Gold Whey Protein is a great tasting high quality, non-fat protein blend - an ideal way to meet your protein requirement throughout the day. It features cross flow, micro- filtered and fast-absorbing whey concentrate in combination with milk protein concentrate which enhances your muscle protein anabolism.


Enriched with BCAAs and EAAs for Rapid Muscle Recovery
Nutrimed™ Gold Whey Protein features a complete amino acid profile that includes 5g of BCAAs like L-leucine, L-Isoleucine, L-Valine and 10.2g of EAAs per serving that enhance the growth and repair of your muscles. The balanced BCAA profile of Nutrimed™ Gold Whey Protein protects your muscles against the catabolic effects of dieting and maintains your muscle mass; this makes Nutrimed™ Gold Whey Protein an ideal pre and post-workout supplement.
• Fast-digesting, micro-filtered whey protein concentrate
• 25g of premium protein per serving
• Increase lean muscle mass and strength
• Enhances endurance and muscle performance
• Instantized formula for easy mixing
• Added enzymes and fiber to aid digestion
• Ingredients sourced from quality international manufacturers
BUILD MORE STRENGTH THAN REGULAR WHEY PROTEIN
Nutrimed™ Gold Whey Protein contains a research-proven dose 2g of creatine monohydrate which combined with whey protein will help to build more strength than regular whey protein. In one study, subjects using the whey/creatine combination increased their one-rep max bench press by 15 kg, compared to only 7 kg for subjects using regular whey protein.
40 mg Vitamin C = This powerful antioxidant boosts the production of collagen - connective tissue that helps repair skin tissue, tendons and blood vessels. Vitamin C also helps flush the muscles of lactic acid.


INTERNATIONALLY-SOURCED INGREDIENTS
Nutrimed™ Gold Whey Protein is created using ingredients sourced directly from quality international manufacturers from USA & Europe. This ensures that the supplement is best in class, and the supplement adheres to the most stringent of safety standards.
You recently viewed
Clear recently viewed