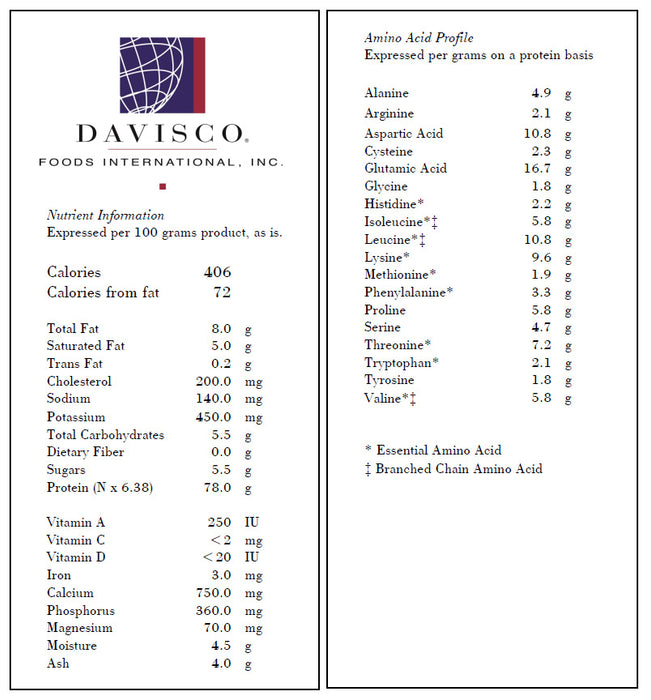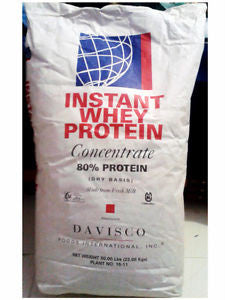 view nutritional info
Davisco Whey Protein Concentrate 80%
DAVISCO WHEY PROTEIN CONCENTRATE 80%
INSTANTIZED & Processed (ready to consume)
Zero artificial flavors, artificial colors, preservatives or artificial sweeteners (Unflavoured variant).

Pure single ingredient - 100% Whey Protein Concentrate (Ultra-filtered premium Whey protein).

World class quality imported from USA (Davisco is one of the top 5 global whey protein manufacturers).

Instantly soluble.

Fast and easily digesting whey protein (PDCAAS score of this whey protein is perfect 1; its as easy to digest as a Banana or Yoghurt).

Excellent choice for Post workout nutrition to supply protein to muscles immediately.

Excellent post workout recovery (contains hefty 6.9 gm BCAA and 5 gm Glutamine per serving).

100% Gluten free.

100% Aspartame free.

Flavoured variants are 100% Aspartame free
Flavoured variants have added flavour imported from Switzerland, Chocolate powder from Turkey and Sucralose from United Kingdom, thus assuring to deliver our customers with the most premium quality product.
Per Scoop of 30 gms has:
- 24 gms (Unflavoured) | 23.5 gms (Flavoured) Ultra-filtered Whey Protein -
- Zero Trans Fat -
- 6.9 gms BCAA (Leucine, Iso-leucine, Valine) -
- 5 gms Glutamine -
Servings per 2lbs Bag = 30
DELICIOUS TASTE WITHOUT THE NASTIES!
A superior formula should have an equally superior taste.
Each delicious serving is 100% Aspartame FREE.
We use the most premium & safest sweetener - Sucralose, which is imported from UK & our flavours are imported from Switzerland from world's no.1 flavour manufacturer.
Convenient 2lbs bags means you can split flavours and taste the range when you buy in bulk.
Find out for yourself what protein should taste like.
IDEAL TIME TO TAKE WHEY PROTEIN:
- After waking up in morning -
- In evening or post workout -
- Before going to sleep - 
100% AUTHENTIC & ORIGINAL PRODUCT DELIVERY is our responsibility. BUY WITH CONFIDENCE.

EXCLUSIVELY FORMULATED FOR...
Protein digestibility-corrected amino acid score (PDCAAS) is a method of evaluating the protein quality based on both the amino acid requirements of humans and their ability to digest it. (Learn more about PDCAAS at Wikipedia - https://en.wikipedia.org/PDCAAS)
Instantized Davisco Whey Protein Concentrate has PDCAA score of perfect 1, which is highest possible score, thus its very easily digestable.
Davisco Whey Protein Concentrate 80% will help ensure that you have the protein you'll need for muscle recovery – fast – to help maximize the results of your workouts. Not only is whey protein a great post workout, it's also perfect to use throughout the day to stabilize blood sugar and suppress food cravings. Whey protein helps you to stay fuller longer, so it satisfies your appetite.
DIRECTIONS: Simply mix 30 gms (1 scoop) in 200-250 ml water/skim milk and blend it using Shaker or electric blender until you have a smooth shake. Take 2-3 times per day daily for best results.
ORIGIN: USA
PACKING: Repacked in 2 lbs polybags (plain/unlabeled) from 22.7 kg imported bulk bag.
FLAVOURS: Unflavored, Vanilla, Strawberry, Chocolate, Banana, Kesar Pista Badam, Butterscotch
You recently viewed
Clear recently viewed