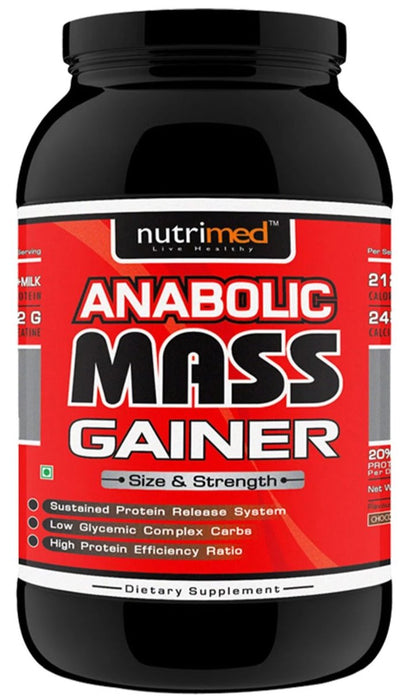 view nutritional info
Anabolic Mass Gainer 1 kg
ANABOLIC MASS GAINER
ONE SERVING: 1 SCOOP (50 gms)
NUTRIMED ANABOLIC MASS GAINER:
is a perfect blend of Whey Protein & Milk Protein; fortified with Glutamine, Creatine, Minerals & Vitamins; all of which would provide essential nutrition for maximum Mass Gain & Lean Muscle growth. It supports endurance, recovery & general health with amino acids coming from its rich protein blend.

It has high energy glycogen support and low glycemic index formula. It contains Lactase and Protease digestive enzymes to aid digestion & enhance metabolism.

It has BCAA (Leucine, Valine and Isoleucine) which support repair and growth of cells.
PER SERVING (50 gms):
Protein: 10 gms
Calories: 212 kcal
Calcium: 245 mg
Creatine: 2 gms
You recently viewed
Clear recently viewed