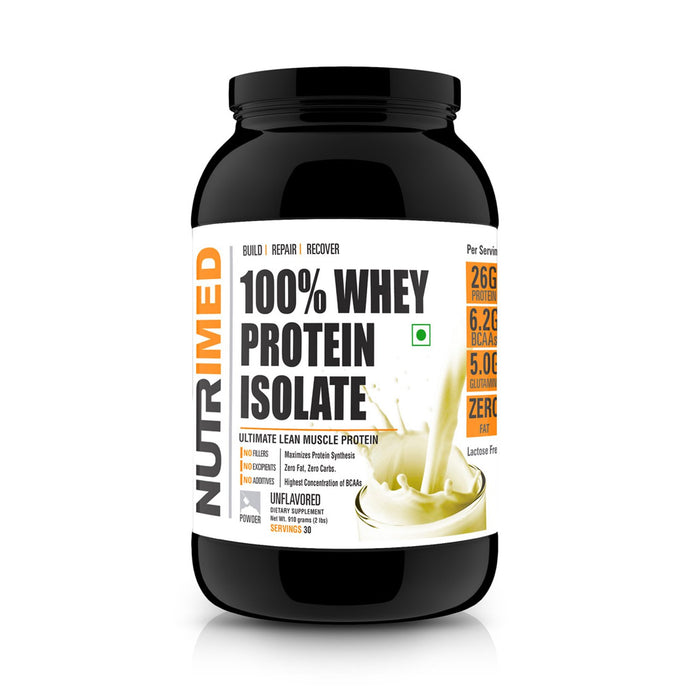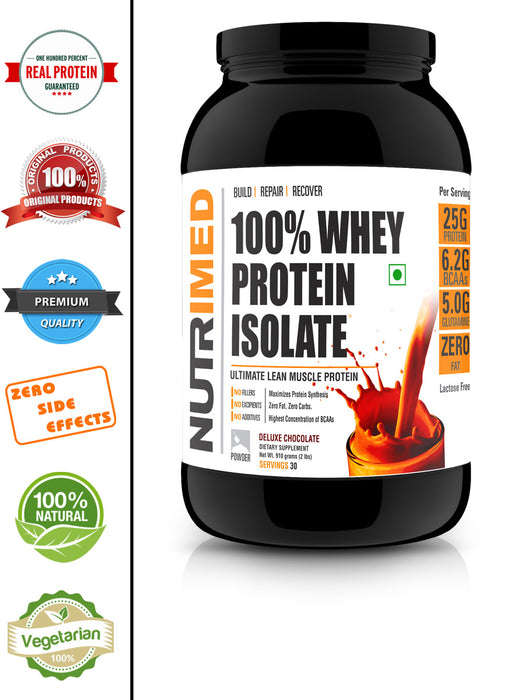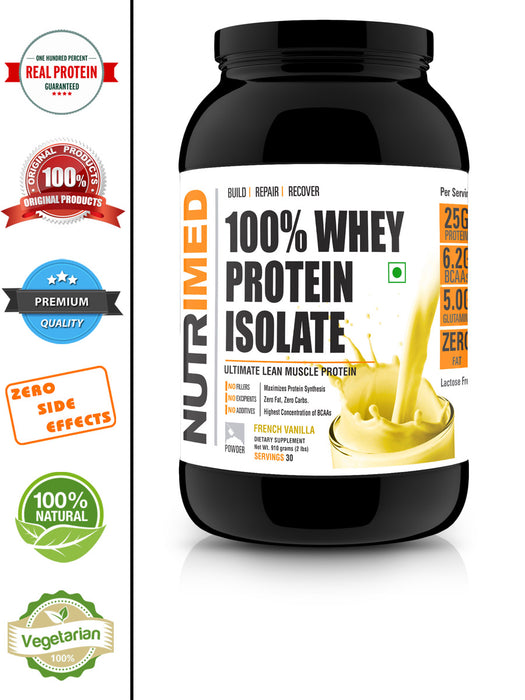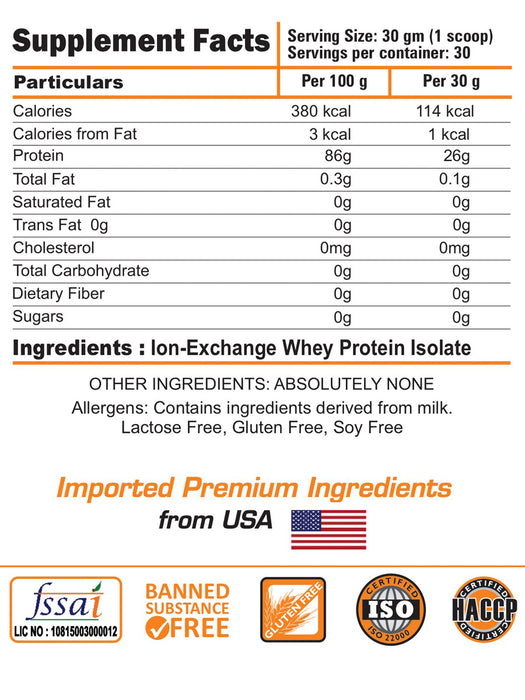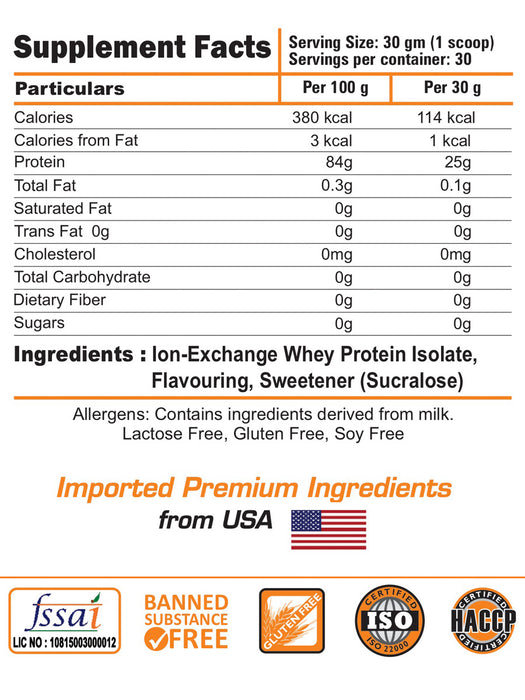 view nutritional info
100% Whey Protein Isolate
NUTRIMED 100% WHEY PROTEIN ISOLATE
- Fast acting and rapidly digesting to support repair and recovery
- Over 6g BCAAs and 5g Glutamine per 30 g serving
- 26 g Protein per 30 g serving, Zero Fat, Zero Carbs, Zero Cholesterol
- Zero fillers or excipients
- Zero soy, lactose or gluten
Whey Protein is well known as the most powerful source of protein for building muscle. However, there are different types of whey; the most common are Whey Protein Isolate and Whey Protein Concentrate. Whey Protein Isolate is the purest form of whey that exists, which is why it's the only protein we use in this product. Whey Protein Concentrate is a cheaper grade with 14% less protein than whey isolate and more fat, cholesterol and lactose. Nutrimed 100% Whey Protein Isolate contains only Whey Protein Isolate with absolutely NO whey concentrate or other proteins.
Benefits

 of Nutrimed 100% Whey Protein Isolate

:
100% WHEY PROTEIN ISOLATE only!

6.1 grams of BCAA's per serving!

Maximizes protein synthesis & minimizes muscle breakdown!

Advanced full-spectrum amino acid profile!

Highest Biological Value (BV) and protein efficiency!

Improves glycogen replenishment and nitrogen retention!

 

 
DELICIOUS TASTE WITHOUT THE NASTIES!
A superior formula should have an equally superior taste.
Each delicious serving is 100% Aspartame FREE.
We use the most premium & safest sweetener - Sucralose, which is imported from UK & our flavours are imported from Switzerland from world's no.1 flavour manufacturer.
Convenient 2lbs bags means you can split flavours and taste the range when you buy in bulk.
Find out for yourself what protein should taste like.
 
 GRASS FED COWS (USA)
As one of the largest sports nutrition manufacturers in India, we look globally for suppliers who have the scale and technology we demand.
Our cows are grass fed 'happy' cows that pasture in USA. 
100% Whey Protein Isolate with Absolutely Nothing Else:
Nutrimed 100% Whey Protein Isolate contains 100% Whey Protein Isolate only! There is No whey concentrate or other proteins, dextrose, creamer or any other filler in this product. It is lactose free, fat free, cholesterol free, gluten free, filler free, excipient free, non-denatured. Our label doesn't state "100% Whey", it states "100% Whey Isolate" so our unflavored version contains absolutely nothing but whey protein ISOLATE, and our flavored versions contain a small amount of flavoring, that's it.
To Make the Best Protein, You Need The Best Ingredients:
Our factory fresh whey protein isolate (WPI) contains 26 grams of pure protein per scoop and is lactose free, fat free, zero carbs and cholesterol free, making it the perfect choice for low-carb dieters or athletes who want to get ripped while packing on muscle. Our WPI is 100% pure, non-denatured whey isolate with absolutely no whey concentrate. Whey protein isolate has the best overall amino acid profile, biological value and protein efficiency for building muscle. Adding anything else to it just takes away the benefits you should be getting from your hard work.
High Biological Value & Protein Efficiency:
You've just chosen the world's leading muscle building protein designed specifically for individuals needing the highest quality protein.
Biological Value of 159

Protein Digestibility of 95

Protein Efficiency Ratio of 3.6

Net Protein Utilization of 92

Perfect 1.0 PDCAAS (Protein Digestibility Corrected Amino Acid Score)
Advanced Complete-Spectrum Amino Acid Profile:
Rich in Branched Chain Amino Acids. Provides the perfect profile of Essential, Non-Essential, and Conditionally Essential amino acids that your body requires for optimum nitrogen retention, protein synthesis and muscle growth.
DIRECTIONS: Add 1 scoop (26 grams of protein) and 250 ml of cold water, milk or your favorite beverage to a shaker cup or blender and mix for 25-30 seconds. Vary the amount of liquid to meet your desired taste and consistency. Drink 1-4 servings daily as needed to satisfy your protein requirements. Using nonfat milk instead of water will give you a thicker, creamier shake.
Consume approximately 1 gram of protein per pound of body weight through a combination of high protein foods and protein supplements. For the best results, consume your daily protein allotment over several small meals spread evenly throughout the day.
For best results on training days, always consume at least 1 serving within 20 minutes after your workout.
You recently viewed
Clear recently viewed