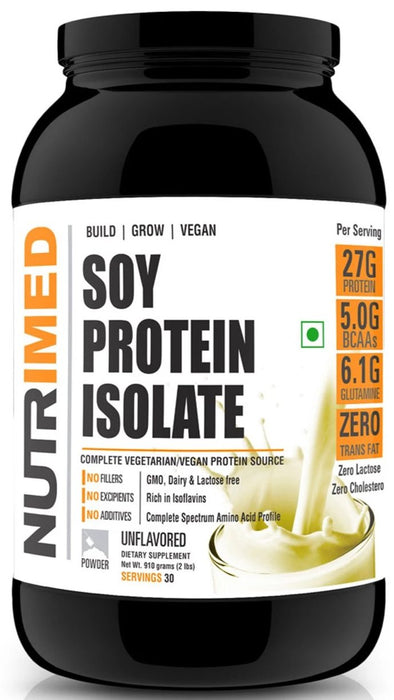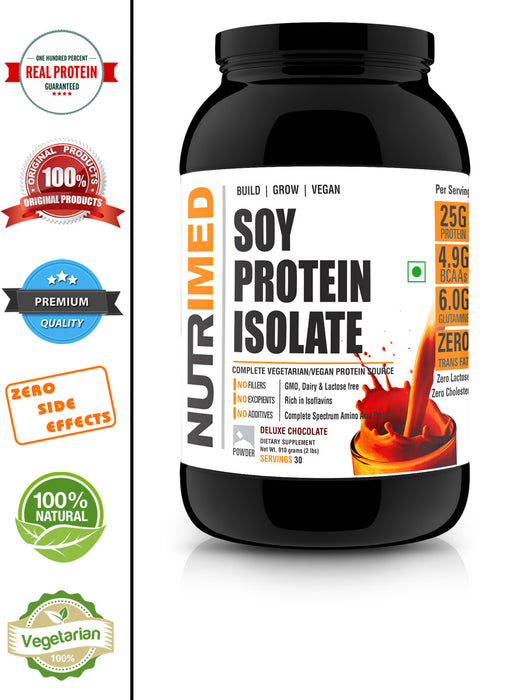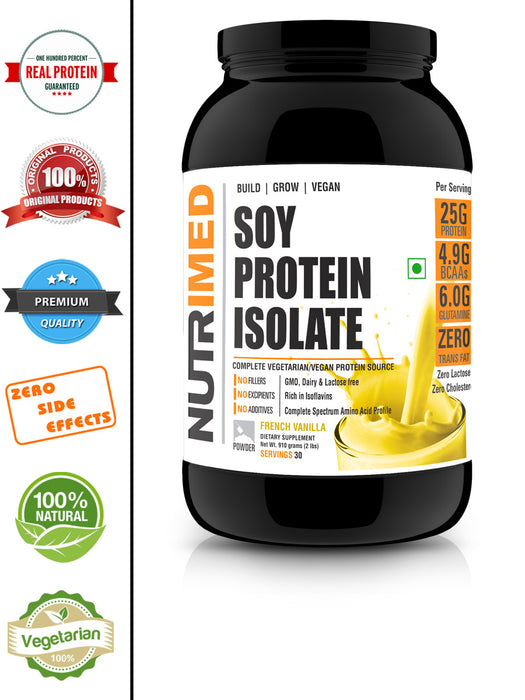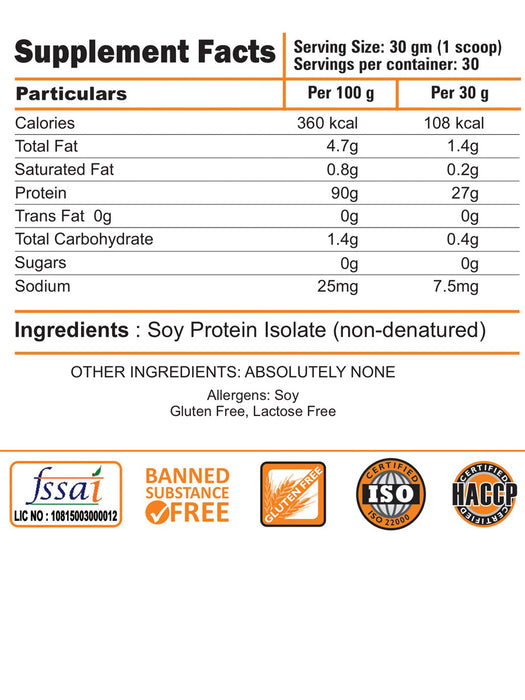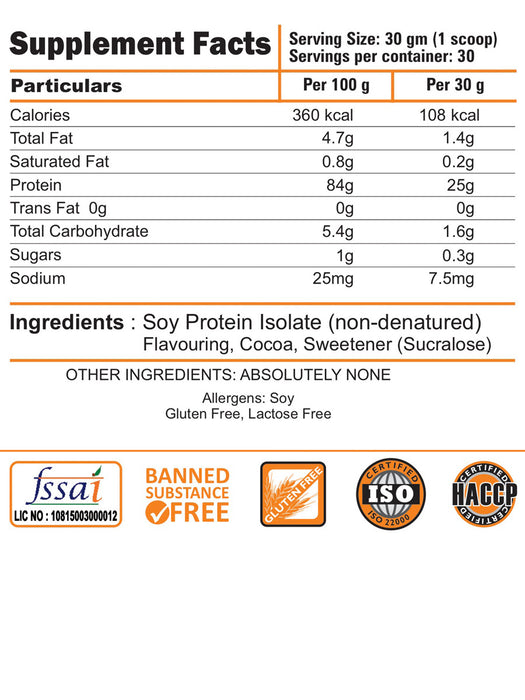 view nutritional info
NUTRIMED 100% SOY PROTEIN ISOLATE : 
100% Vegan Protein
100% Dairy Free
Zero Lactose, Zero Cholesterol
5 gms BCAA, 6 gms Glutamine per serving
Excellent choice for lactose intolerant individuals
No additives, no fillers, no nonsense
Our 2 pound containers of factory fresh natural unflavored variant Soy Protein Isolate contains 27 grams of pure protein per 30 gram serving. With less than 1 gram of carb and fat per serving, it's perfect for dieters or athletes who want to get ripped and lean while packing on muscle. Our Soy Protein Isolate is 100% lactose free which makes it a perfect protein choice for lactose intolerant individuals. This natural Soy Protein Isolate has absolutely no additives.
High Source of Isoflavones
Nutrimed 100% Soy Protein Isolate provides a high-quality, all-vegetable protein; rich in isoflavones, to support lean body mass, maintain cardiovascular health and promote strong bones.
May Reduce Risk of Heart Disease.
The FDA has approved the health claim that diets low in saturated fat and cholesterol that include 27 grams of soy protein may reduce the risk of heart disease. Our Soy protein isolate makes it easy to meet this requirement in just one serving.
Superior Digestibility.
This protein is one of the most digestible soy proteins available and has perfect 1.0 PDCAAS (Protein Digestibility Corrected Amino Acid Score), the highest score obtainable.
Complete Amino Acid Profile.
Provides all of the essential, non-essential and conditionally essential, amino acids needed to fulfill human nutritional requirements for growth, maintenance and physical stress.
NO Artificial Sweeteners, Sugar, Cholesterol or Lactose (Unflavoured variant)
This 100% soy protein isolate contains no artificial sweeteners such as aspartame, no fructose or other sugars, no added salt, and is low in saturated fat. Instantized for easy spoon mixing without clumping.
DIRECTIONS: Add 1 scoop to 1/3 cup of cold water, juice, milk, yogurt, sauce or your favorite mix. Stir until dispersed and then drink immediately. You can add more or less liquid to meet your desired taste. You can also add to cereal, oatmeal, etc., to get more protein into your daily diet.
You recently viewed
Clear recently viewed