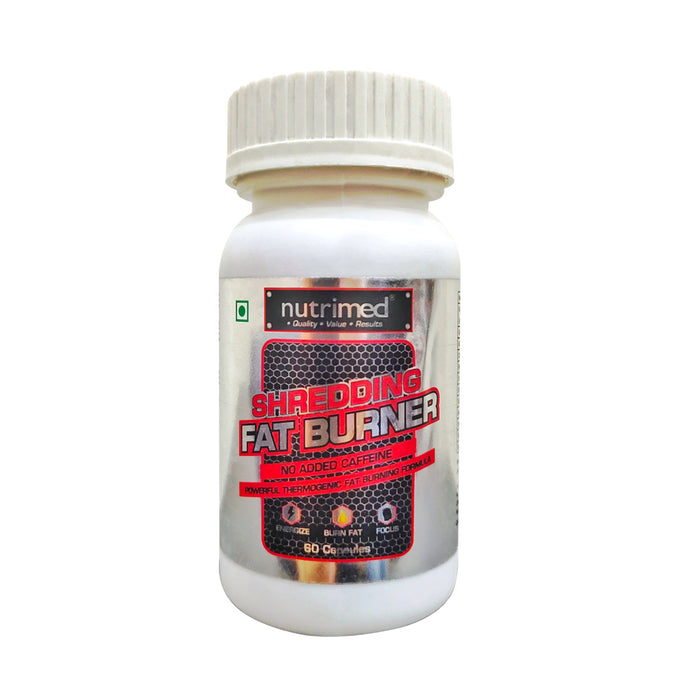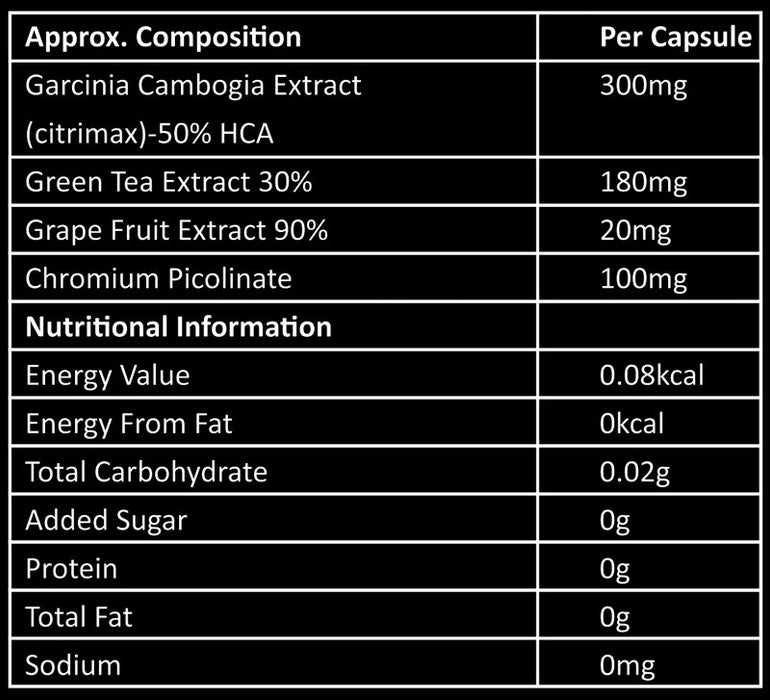 view nutritional info
Nutrimed Shredding Fat Burner Capsules are an apt source to activate metabolism and burn extra calories. This fat burner works effectively in destroying fat deposits. Nutrimed Shredding Fat Burner capsules contain extracts of Garcinia cambogia, grapefruit and green tea in concentrated forms.
These capsules are ultra-concentrated fat burners, which are specifically formulated to help your body burn the stubborn fat effectively. These capsules make sure that your weight loss target is successful as these provide a powerful appetite suppressing support.
These capsules contain green tea extract that has epigallocatechin gallate, which helps in weight loss. It also contains grapefruit extract, which helps in combatting high stress level. Due to its high fibre content, grapefruit also makes you feel satiated for long, which reduces your calorie intake due to eating unhealthy snacks in between meals.
Delivers 1200mg of thermogenic blend in a daily serving of two capsules

Helps manage weight and yields energy

No Added Caffeine - you can consume our fat burner even at Night & burn fat while you sleep !
 
Delivers 1200mg of Thermogenic Blend in a Daily Serving of Two Capsules 
In a daily serving of 1200mg, you get a thermogenic blend of green tea extract, garcinia cambogia, chromium picolinate & grapefruit extract; which promotes thermogenesis in your body and burns fat.   
Helps Manage Weight and Yields Energy
The thermogenic effect of its ingredients boosts metabolism in your body, resulting in the production of energy for your working muscles. During exercise, these capsules also stimulate your body to burn fat faster and sooner while you workout. 
Garcinia cambogia used in these capsules helps in the synthesis of cholesterol, fatty acids and triglycerides. As the name suggests, it helps in suppressing your appetite and enhances body metabolism.
The Chromium picolinate present in this supplement aids in processing the glucose, protein and fat content of your body and helps in maintaining a stable level of blood sugar.


Capsules per Jar = 60
Recommended dosage = 2-3 capsules per day
You recently viewed
Clear recently viewed